Uncontested & Collaborative Divorce Lawyer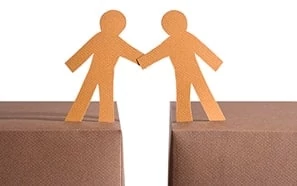 An uncontested divorce is ideal. It minimizes the hostility between the parties during and post-separation. If children are involved, then two parties that can mutually agree on the parenting terms without acrimony is best for the kids. Just because two parties are separating does not require a fight over the children. However, there must be cases where you think that you and your partner are going to take an uncontested divorce with mutual understanding. But later you find that your partner wants to content in local courts. In those cases, you may need and contested Divorce Lawyer/attorney's help. Though, for an uncontested divorce, an uncontested divorce lawyer/attorney will be the person you should be looking for.
FAQ regarding Uncontested/collaborative Divorces
Can one attorney represent both parties?
No. One attorney for each party. The alternative to this rule is that the attorney acts as a mediator and does not represent either party.
Do both parties need attorneys?
The short answer is no. Neither party is required to have an attorney, but a good attorney will guide the parties what they need to do after filling an Uncontested Divorce through the process. At the end of the process, the parties will have an enforceable agreement that addresses all of parties needs.
How do I know if I qualify for an Uncontested Divorce?
Call my office at 617-410-6467 to speak with Wyckoff Nissenbaum (attorney) to discuss your personal situation.
What is the Cost of taking an uncontested/collaborative Divorce?
Go to our legal fees page to learn more about the cost?